Home

>

E-Pass Loisirs - With an accomodation
E-Pass Loisirs
With an accomodation
from
18 €
Presentation
Book online the E-Pass Loisirs with your accommodation!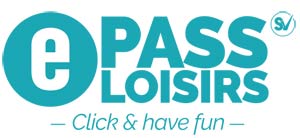 FROM 03 JULY TO 29 AUGUST 2021
The
Leisure e-Pass card
gives you a
free access to the swimming pooln the ice rink and the ski lifts (mountain bike included)
Little extra:
the Leisure e-Pass is also an electronic purse! You can credit this card for an amount to easily buy a mountain of fun activities: zip line, airbag, pool bar, Alp ' of Zélie, Valform '...
General
Practical information

:

Minimum of 3 consecutive days (3 days: 18 €, 6 days: 30 €, 7 days: 36 €, 13 days: 60 €)
No need to select an apartment or a hotel with the e-pass logo: all the accommodations allow you to benefit from it!
Free for children under 5