E-Pass Loisirs Stay
From
25 € les 6 jours
/pers
From July 6th to of August 30th 2019
NEW: EPASS LOISIRS OPEN TO ALL!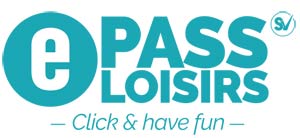 DU 06 JUILLET AU 30 AOUT
From July 6th to August 30th

EPASS LOISIRS,WHAT IS IT?
Two good deals grouped on a single map


1 - A SUBSCRIPTION TO ACTIVITIES
For 25 € for 6 days, get a free access to the swimming pool and the ski lifts (mountain bike included)
Minimum of 3 consecutive days.
3 days: 15 €. 13 days: 50 €

2 - AN ELECTRONIC PURSE
Whether or not you have booked an e-Pass Loisirs, you can credit a card for an amount to easily buy a mountain of fun activities: zip line, fishing, airbag, pool bar, Alp ' of Zélie, tennis, golf, archery, Valform '...
You can freely use the Leisure e-Pass for subscription, e-wallet or both!


HOW TO GET IT?

New in summer 2019: No need to select an apartment with the e-pass logo: all the accommodations allow you to benefit from it! Book it online with your accommodation or buy on site at the ski lifts or the pool.
Pics